Health:
Body-Mass-Index
The Body Mass Index tells you whether you are too heavy or overweight in relation to your height, and if you should lose or gain weight.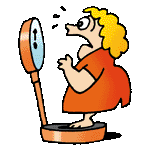 In short:
On this page you find tools to help you calculate your personal Body Mass Index (BMI).
Quick manual
The Body Mass Index (BMI) calculation distinguishes between adults and children.

For this reason, we ask you to first select the appropriate BMI calculator.

(There ist no BMI-calculator for children available at the moment.)

Then fill out the applicable information. The result will appear after you click the button "calculate BMI".
---