Electronics:
Calculate resistor for LED
With this calculator you can calculate online the tolerance class of resistors for LEDs.
Calculate resistor for LED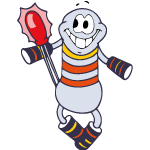 In short:
Here you can make an online calculation of the resistance required for a light emitting diode series.
Quick manual
Input of the operating voltage of the circuit, the forward voltage and the forward current of the LED allows the automatic calculation of the resistor that must be installed. Selection of a tolerance class of resistance allows refining results further.

volt

Calculated resistance (informative)
ohm

to-use resistance
ohm

operating current ohm (Nennwert)
mA

operating current ohm (- % Tolerance)
mA

operating current ohm (+ % Tolerance)
mA

dissipation of the series resistor
mW

dissipation of the series resistor (at - % Tolerance)
mW

dissipation of the series resistor (at + % Tolerance)
mW